How to Make Your 2021 Kitchen Remodel Work for You
When the pandemic hit, we all started comparing notes with each other about the new reality of "safer at home", and about how we were getting through it. Suddenly, all the little details about our lives had changed—from navigating the new reality of closer proximity to partners or roommates for all hours of the day to experimenting with new art projects or other "always wanted to" plans. From baking our own sourdough bread to trying all the new New York Times or Cook's Illustrated recipes, many of us were finding new ways to pass the time. And with everyone staying home 24/7 we began eating many more meals at home, and we all began throwing more elbow grease into the most common pastime of all: dishes, dishes, and more dishes.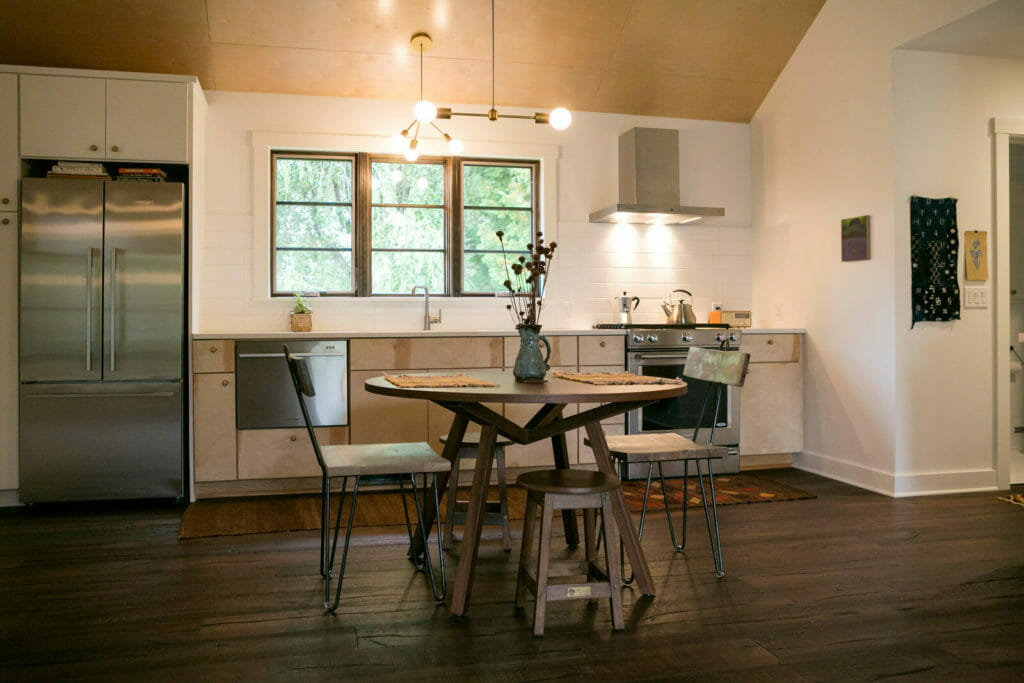 It almost goes without saying that we're spending more time in our kitchens in 2020 than we have in any other year. No longer just a landing spot for the last-minute takeout we picked up on our drive home from work, kitchens now play much more multi-faceted roles as culinary headquarters, makeshift workspaces, command centers, craft rooms, and just general gathering spaces. With your kitchen now doing double, triple, or quadruple duty, it makes sense that you'd be thinking more right now about ways to improve it and make it the ideal space. Let's face it: if you're going to keep washing all these dishes for awhile, you might as well make it enjoyable!
Sustainably Minded and Within My Budget
When it comes to the various kinds of remodeling projects you could choose from, kitchens stand out from both a sustainability and cost perspective. In fact, when it comes to return on investment, kitchens are one of the best remodeling projects to take on. Kitchen remodels typically recoup 60-80% of their cost upon selling a home. Of course, there are also lots of opportunities to splurge and save on a kitchen remodel—so it's critical to make sure to work with a good design team that can help you make sense of the various opportunities for saving, and help you determine what elements will have the most value to you based on your needs.
Now more than ever, sustainability is something we're all thinking about, as we've been faced with the realities of how our personal choices affect our collective wellbeing. Kitchens are a great starting place for putting sustainability into action. We can help you select water-saving faucets and dishwashers, energy efficient lighting, and energy efficient appliances that fit your needs. Another way to make a big impact? Consider installing a filtered water tap at the sink—the longer lasting filters are less wasteful than using a Brita that has filters that need replacing frequently, and the tap water filter also conserves energy when compared to an in-refrigerator filter—which can only be used by having the refrigerator door open.
The Best Gathering Spot: How to Spend More Time in the Kitchen
Say you're ready to make the leap and get started on a kitchen remodel. How do you decide what your remodel will look like—what to add and what to leave out? Interestingly, all that pandemic cooking has helped define what kinds of elements are more desirable now—and translate to greater functionality, no matter what the future holds. We're finding that having space for people to gather in the kitchen while someone is cooking is a common request; gone are the days when cooking is a solo activity, or when the cook is shunned to a tiny room by themselves.
Now that people are cooking more because they have more time and are dining out less, a lot of folks are thinking about bigger kitchens. Fancy microwaves that refresh takeout food to restaurant-fresh quality have seen an uptick during the pandemic. And of course, everyone wants an island with seating! However your family or "quarantine pod" gathers, we can help you design that perfectly warm, thoughtful, and comfortable layout that will fit the bill.
Before and After: The Best Way to Remodel
Working within an existing space is always a challenge, as compared to building a new home. Depending on the space that you're starting with, clients frequently have to sacrifice some wish list items for others, based on the limitations of size, locations of windows, or other existing conditions. Having a creative design team that enjoys the challenge of maximizing and rethinking spaces is paramount—especially when you're remodeling.
It helps to really zero in on how each member of your home uses the space, and how you envision your kitchen functioning in the years ahead. Do you cook with another person, or primarily by yourself? Do you prefer to keep people out of your way when you cook, or do you prefer to have people in the room to chat with while cooking? Do you entertain frequently? Have lots of large gatherings? There are lots of ways to design a kitchen to invite people in—or keep them out—of your cooking zone.
Need help generating ideas? Here are some stylistic options and features to think about. Consider updating your 1900's galley kitchen, by opening up walls and creating the open floor plan you've always wanted. A small dry bar area can elevate the kitchen space and help cultivate associations of relaxation and connection. Open shelving can add character and warmth. What kinds of color schemes are you drawn to? Do you envision a combination of neutrals, light and bright shades, dark accents, bold colors? We always admire bold choices in our remodels—we recognize that neutrals aren't for everyone. These days, life is too short not to follow your heart.
How TDS Can Help You on the Quest for the Perfect Kitchen
Remodeling an existing space can present its challenges, but TDS can help you out. We design and remodel kitchens based on your personal cooking and entertaining style, and we have 35+ years of experience working with different kinds of homes in the Madison area. Our kitchen and bathroom designer, Nancy Kaiser, has more than 11 years of experience at TDS, and decades of experience as a draftsperson for a kitchen design studio and as the senior designer for a local kitchen-and-bath studio after that. As a Certified Kitchen Designer with specialties in Universal Design and Sustainable Design, she's not only a delight to work with—she's also got you covered when it comes to your sustainability, budgetary, and accessibility needs.
What are your hopes and dreams for your perfect kitchen? What would you change about your current kitchen? Inquire with us on how to solve those problems with a thoughtful remodel!